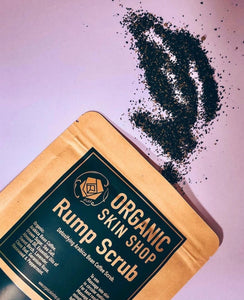 Did you know that coffee actually has some amazing skin benefits? We think the best of these is the fact that it has the power to actually firm and tone the appearance of skin (aka your Rump). The caffeine in coffee helps to stimulate and dilate the blood vessels which helps your body to tone and tighten the tissue. Also, the antioxidants contained in coffee help to get rid of a leading cause of cellulite and puffiness, which is toxin build-up. It diminishes stretch marks naturally by it's offering of anti-inflammatory and hypertensive properties.
This scrub comes in 8oz. bag and is made with 100% Organic Arabica Coffee Beans. We chose Arabica beans because of their high caffeine content. This scrub also contains Organic brown sugar and Himalayan Pink Salt to help exfoliate away dirt and dead skin. Sugar also promotes new cell growth and helps protect skin from the environment. Rump Scrub also contains a blend of Organic Almond and Organic (therapeutic grade) Essential oils, their benefits are as follows:
Almond Oil: Contains vitamins A,E, and D to moisturize skin and help it to heal. Some use Almond Oil because of the "glowing effect" it is known to cause on skin.
Birch Oil: Known to diminish the appearance of cellulite when applied topically in a circular motion.
Lavender Oil- One of the best Essential oils out there for Detoxing and calming any inflammation.
Also contains Rosemary oil, Geranium oil (especially helpful to those dealing with psoriasis and eczema), Peppermint oil, Clove Bud oil, and Rosewood oil for further tightening, toning, detoxing, healing, and moisturizing properties.
How to Use: Pour quarter- sized amount into hands and apply to wet skin in the shower. Massage scrub in circular motion on areas you are most concerned with or all-over body. Try to leave scrub on for 5-10 minutes (the longer the better) before rinsing. Be mindful of not getting to much water into container. Use at least 3 times a week and enjoy a body that is tight, toned, and ready for summer fun! Store in cool, dry place. It is recommended to follow up with our (coffee butter infused) Bum Butter.
***Please note that ALL OrganicSkinShop products are handmade to order to ensure the highest quality and freshness available. Please allow at least 1-2 weeks after purchase before receiving your tracking number for shipping. Also some OSS products are heat sensitive, so if you live in a warm climate (above 75 degrees most days) I would recommend purchasing a cold pack (available through our shop) for those heat sensitive items which will be marked.