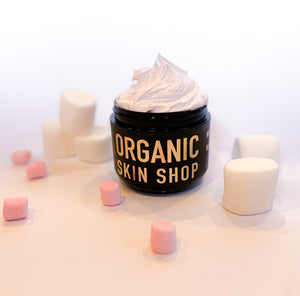 Welcome the brand NEW limited-edition holiday Pink Lavender Marshmallow Body Butter, specially handcrafted with a blend of organic coconut oil, shea butter, jojoba oil, and avocado oil. 

What is it?  A silky and hydrating ultra-whipped body butter. Indulgent sweet marshmallow scent with a subtle hint of lavender everyone will love.

 Ingredients: organic coconut oil, organic shea butter, organic jojoba oil, organic avocado oil, glycerin, mica, organic lavender essential oil, marshmallow fragrance oil. 
4oz. (BPA-free) jar.
To use: Apply to skin sparingly (a little goes a long way). Store in a cool, dry place. Use daily.
****Please note that ALL OrganicSkinShop products are handmade to order to ensure the highest quality and freshness available. Please allow at least 1-2 weeks after purchase before receiving your tracking number for shipment. Also some OSS products are heat sensitive, so if you live in a warm climate (above 75 degrees most days) we recommend purchasing a cold pack (available through our shop) for those heat sensitive items which will be marked.

This product is HEAT SENSITIVE.